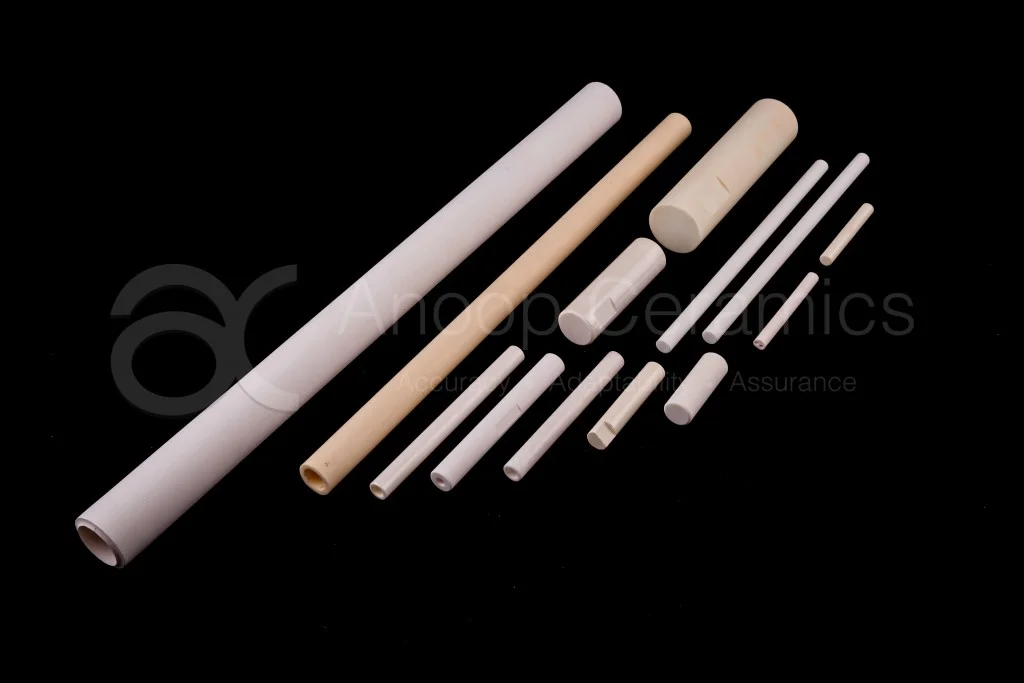 Ceramic Tubes and Rods
Ceramic tubes, rods, and shafts find use in a wide variety of applications, including turbine casting supports, surgical devices, ceramic insulators, water processing components, vacuum devices, and high-power resistors. In markets such as aerospace, defense, healthcare, lighting, furnacing and electronic equipment, they are prevalent. For example, ceramic tubes and rods are used to fabricate electric parts for high voltage or power applications such as insulators or other heating equipment.  
Tubing and rods can be further transformed into standoffs, washers, and step bushings, which can be very cost-effective at lower quantities. Anoop Ceramics' tubes and rods perform exceptionally well in high temperatures, have excellent electrical properties, and resist corrosion even in the most challenging weather. Anoop Ceramics features tubes, rods, and shafts - available in a wide variety of sizes, shapes, and configurations, such as single bore, double bore, oval shapes, and custom shapes. We ensure a crystal-sharp glaze on all our products.
Metals such as Alumina and zirconia are used to create tubes and rods. They exhibit properties such as hardness, straightness (without any bend), and a diamond-trimmed beautiful polish ideal for Anoop Ceramics' products. However, why choose Anoop Ceramics' products for your industry needs
We pay particular attention to size, the composition of the metal, and customer needs and applications. Ceramic tubes, rods, and shafts ensure the long lifecycle of several machines powered by thermal and electrical energy. We at Anoop Ceramics anticipate the needs for them and manufacture them accordingly.