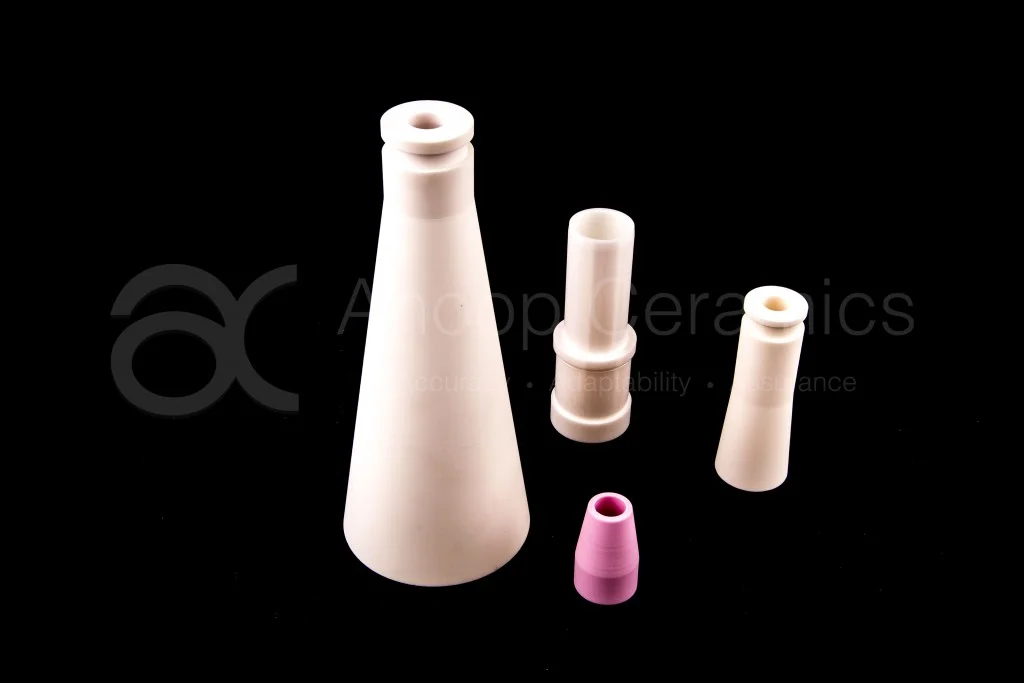 Ceramic Nozzles
Ceramic is a versatile material and typically makes many types of nozzles. Examples of ceramic nozzles include sandblasting, blasting, siphoning, abrasive blasting, and many more. The nozzle is a particularly crucial component as it is wear-resistant, brittle, refractory, thermally and electrically insulating, resistant to oxidation, and chemically stable. Ceramic nozzles are used in industries such as aerospace, military, defense, and medical. 
They are also used in processes such as cleaning, resurfacing, and treating a surface using a high-pressure fluid, also known as sandblasting. In sandblasting, the worker propels a high-pressure stream of jagged metal to smooth a rough surface or to shape it into the object of need.
Ceramic nozzles are also used in agriculture for spraying pesticides, insecticides, and fungicides in fields and fruit orchards. Ceramic nozzles are used in this setting for their durability and resistance to chemical abrasion. Anoop Ceramics' nozzles are primarily used for a process known as plasma etch processing - where they are designed to regulate gas flow rates and evenly distribute or scatter gases into the etch process chamber. Our products have high plasma resistance and strong corrosion resistance as well. They are built to withstand the etch process chamber's high temperatures and the by-products such as aggressive cleaning cycles and high voltage RF.
We manufacture our nozzles keeping in mind the best industrial practices of plasma etch processing and other industries. They fit into various applications and fulfill diverse requirements across clients and industries. Our rates are quite competitive with industry rates.