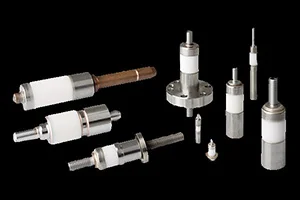 Ceramic Feedthroughs
Feedthroughs are assemblies or passageways which allow substances or different types of energy to pass from an outside compartment of an equipment piece to the inside, which may have been sealed. The purpose of feedthroughs is to provide electrical isolation. They are perfect for industries, products, and applications that require tightness in a vacuum and electrical insulation.
Pressure feedthroughs are also used in vessels along with threaded fittings. Thermocouple feedthroughs are instrumental in transmitting the electromotive force in the application through to the outside wall. Feedthroughs are usually constructed to be leak-free, resistant to high temperatures, pressure, and toxic chemicals. They are the ultimate stamp of reliability and stability in a volatile application.
Anoop Ceramics' feedthroughs are created for a variety of purposes, such as particle acceleration, furnaces, x-ray equipment, undersea communication, and the exploration of geothermal energy. They are made from Alumina and zirconia with extremely high purity and strength. Alumina 94's excellent surface finish makes it ideal for our feedthroughs, as well as its low porosity, excellent chemical resistance, high mechanical strength, and electrical insulation.